All right! Week three is rolling in and we're ready for the funky burrito method. This is such a super cool way the dress comes together- I can't wait till you see it.
If you're just starting
, NO WORRIES-- head over to the Day One post HERE and start from there. Pop back over to us when you're ready.
Meg made a very helpful video to get us through this bit, so I'll post hers here.
First we'll sew the neckline.
Top dress is RST with Under dress, match up the neckline and shoulder seams and pin a ton. Sew around the entire neckline, then clip curves.
Turn bodice RSO and press well. You may have to take some time here to press that neckline nicely. I like to use my sewing ham, not to be confused with this: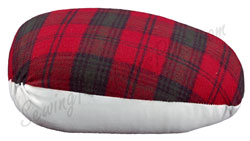 You can buy one here if you don't have it already.
They are great for curved pressing.
*I must add- my Dad said he's engineering something to help me film for next month's sew along (Painted Portrait Dress)! I'm excited to see what he makes for me, because this was not easy having my phone in the ceiling. LOL!!
***************************************************************
(Step 6 b + c + d in pattern.)
This method does best with few words and more viewing:
It's important to roll tightly enough (I mean don't go crazy or anything, but--) when the roll arrives at the other side you have to take the armscye edges of the unrolled strap and wrap them around to meet. The wrong sides are facing out. Pin a ton again, and sew. Clip curves (always!) and turn the bodice RSO.
Repeat for other side, starting with the finished side and rolling towards the unfinished armscye.
******************************************************************
We are SO close. Let's get this dress together so next week all you have to do is hem. YAY!!!
(Step 7 a + b in pattern)
Match outer dress front with outer dress back RST and pin a ton. Sew starting from the bottom of outer dress allllllllllll the way down to the bottom of inner dress. Remember to follow around the in seam pockets--don't sew them shut! LOL Look at the diagram with the dashed line, that's where you'll sew on both sides.
Stop here if you wish (or keep going).
Next week we will hem the dresses in step 8 a-d.
You can do this.
Happy Sewing!
XOXO


Ready for day four? Click here.
Many thanks to our

lovely

sponsors: