This coming week I turn 40.
I'm so excited about it, truly. There are SO MANY reasons to be happy about entering the decade of cuarenta, and after much discussion on this topic
I've come to the realization that my FAVE thing about turning 40 is:
I TRULY DON'T HAVE TO TAKE ANYONE'S SH*T ANYMORE.
I don't have time for it.
If I live the average life span of an American female, I'm half way through my life. That makes me freak out- there is SO MUCH TO DO and so much TO SEE!
Pic from the Kilimanjaro climb - read the story here.
Each day I'm learning something new or hearing some tidbit that is so interesting. I'm questioning MORE.
I can see a little more clearly, because I'm not focused on "what will others think?"
WHO ARE THE OTHERS?!
It's taken me a long time to realize nobody is looking - everyone is too focused on themselves.
What if we focused all our time and energy on things that made us happy- even if you're stuck at a sucky job - maybe that cup of blissful coffee takes the edge off? I know it does for me. . .
Speaking of coffee, I'm trying to take a tiny break from 2 French Press pots a day habit and drink a lot more tea instead. MY ABSOLUTE favorite tea--ok, well my TWO absolute favorites are:
They are both so lovely- warming and spiced with just the right amount of magic.
Speaking of magic---- check out this Rainbow Taper holder project from Sugar and Cloth. OH EM GEE!
Anything colorful and rainbow-y makes me instantly feel cheered. I remember the moment when I watched Wizard of Oz at age 5 or something, and the second it turned to COLOR--BAM!!!! ALIVE!
Read this as enthusiastic not shouting. LOL
I've been slathering on the Essential Oils lately -- lots of body chills and feeling "not normal". I don't call it sick, but if I was a male it would be like "OMG I'm DYING HERE".... Yeah, you know what I mean.
I keep my oils near at all times. Thieves, Eucalyptus, Elevation, Frankincense, among other blends.
PEACE has been my Bae lately- in roller ball form.
My sewing pattern fits bottles and roller balls if you fancy making a case or forty... It can be made with scraps too!
I love them in cork fabric (SO EASY TO SEW!)
I get my cork from Sew Sweetness.
This is leopard print cork- so cool. I usually add charms to my zipper pulls- I just shop the jewelry section at Michael's or HL to find 50% off deals. They elevate the finished product a bit.
I was going to write a tutorial for how I make my tassels, and then I Googled it and saw there are 5 gajillion trillion tutorials out there for making tassels. NIX on that plan! LOLOL
Here is my favorite yarn tassel tutorial I found on Etsy.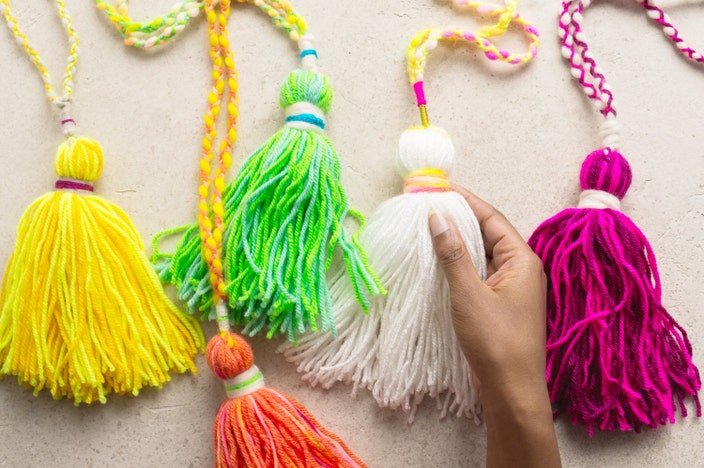 SO EASY and SO DANG CUTE!
My girls and I have made at least thirty in the past few days. Using up those skeins of yarn in a jiffy! Crafting brings us together and gives us all the warm feels. I love it. Except when they complain about my Yo Yo Ma in the background... HA!
I use our Alexa all the time for playing soft music in the background. It reminds me of my Babysitter's house when I gew up in the 80's--she always had instrumental playing over the speakers and it was so calming.
Although I will say once in a while she pops on and says something when I wasn't even talking to her....
Alexa you are a creeper! Lolololol.
I've been working on a new pattern, but life has gotten in the way a touch so it'll be released a touch later than anticipated. Here's a peek though:
March 13 at 7 pm I'm giving a talk at the American Sewing Guild
in Madison/ Fitchburg. I'm REALLY excited about it because the topic is so close to my heart. I hope if you're near you'll come by!
I recently had a weird situation with a logo designer so I ended it and made my own damn logo. How's that for self sufficiency?!! Again, now that I'm 40 I don't feel the need to "be nice" in situations where it's clearly not working.
I used this website to make the basic image, then imported it into Adobe Illustrator for tweaking and drawing the flowers and thread. Can you tell the I is a needle? Say YES.
bahahaha
Well that's it for today. Just a snip it of a post.
This weekend is going to be a busy one. I'm heading to Chicago with my Soul Sister to the Institute of Art for some much needed inspiration and relaxation.